Healthy eating is not difficult or expensive
Those who think that a healthy diet, a healthier way of life is expensive and difficult, actually have only excuses. And I firmly believe that healthy eating is not difficult or expensive.
It is easiest to say that a healthy life is expensive, without even trying to change some old bad habits. Why should people not invest in their own health if they invest in life in education, social life, and so on? It does not really take much time and money to eat healthy and also train. Some of my tips are as follows:
Buy larger quantities of food
It's great that many foods can be purchased in larger packages and can last longer than a week. Eg. In my case, they are: rice, potatoes, oatmeal, pasta, rice shreds, wheat gris, kus kus, beans, palent …
Plan ahead
Personally, I always do a weekly plan in advance of purchasing foodstuffs. I do not go to the grocery store every day, so I go once a week and buy a bigger amount and save the precious time.
Avoid fast food
Instead, eat something you prepared for yourself. You know what you enter into your body, you know the exact amount and nutritional value of the foods used.
Eat at home
Here you will surely save the most money. Fast food is not cheap and is still unhealthy. Instead, cook your meal to be sure of what it is and trust your body and wallet.
Frozen is good
Prices are affordable, and frozen foods are of good quality. Eg. always in my refrigerator I have 2 kg of frozen forest fruit I regularly put in oatmeal or rice gris after training. The food is quicker to cool and also gives a special taste to meals for freshness.
Seasonal and local foods
When you, most likely, go through purchasing foods that are not seasonal, they will be much more expensive than seasonal. So be rational and see which vegetables and fruits are at some period of time more cheaper.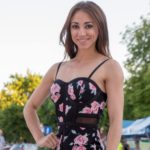 Author: Ema Brajdić, IFBB Bikini