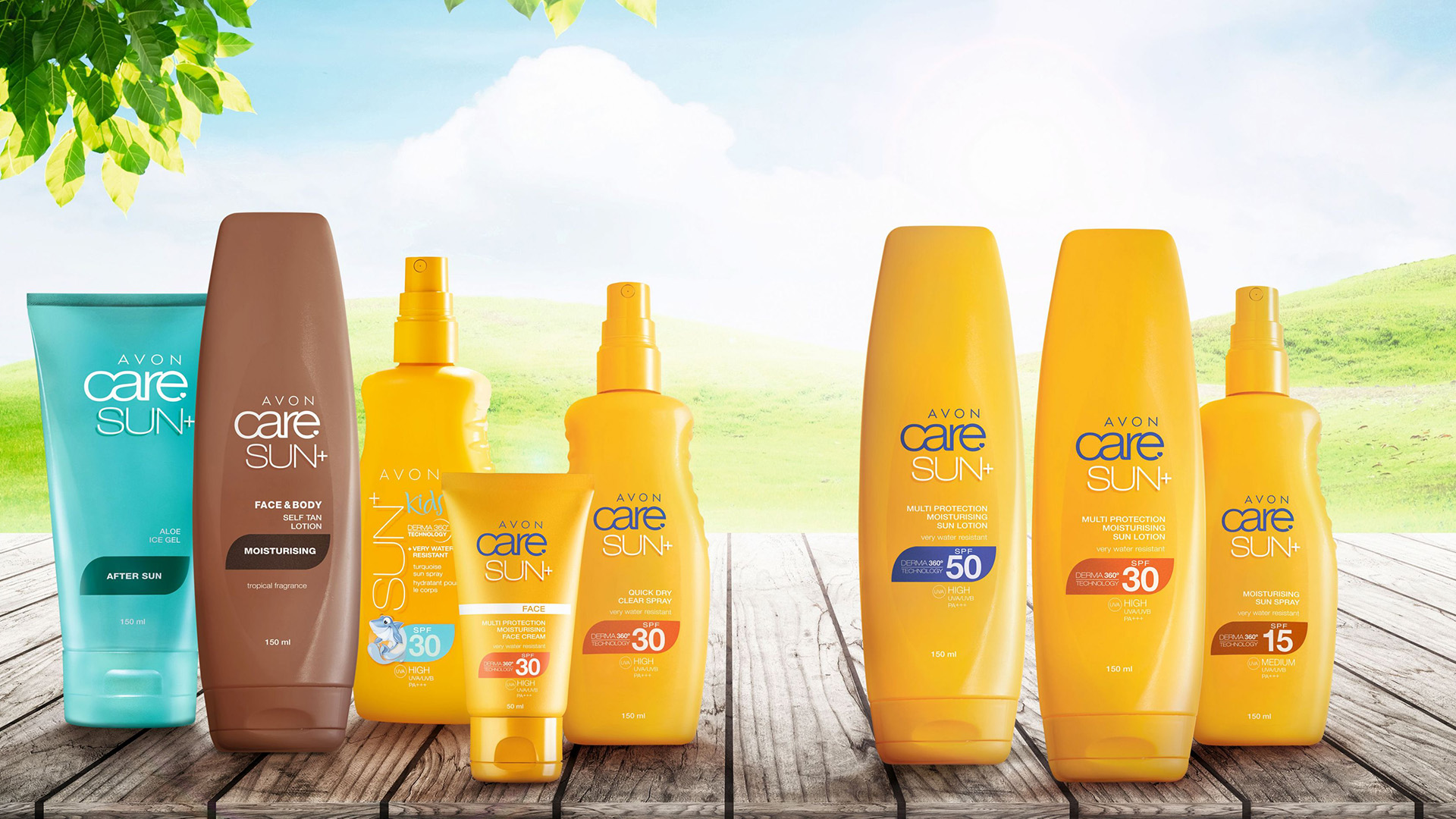 Sun: Good or Bad?
Have you noticed that during the sunny days you are in the better mood? Sun rays raise the level of serotonin – a hormone responsible for good mood.
Did you know that during 30 minutes of exposure to sunlight, the skin produces as much vitamin D as you can find in 200 glasses of milk? The sun allows for the synthesis of vitamin D, which, among other things, protects us from bone mineralization and osteoporosis.
New Avon products in AvonCare SUN+ line
High SPF 30 and 50, deep hydration and matte effect in the new 3 in 1 AvonCare Sun + Shine Control face cream. 50 ml, 60kn
Advanced Derma 360 technology effectively protects and nourishes in gentle waterproof formula for maximum comfort and safety – AvonCare Sun + Pure & Sensitive face and body lines with SPF 50. 50ml, 75kn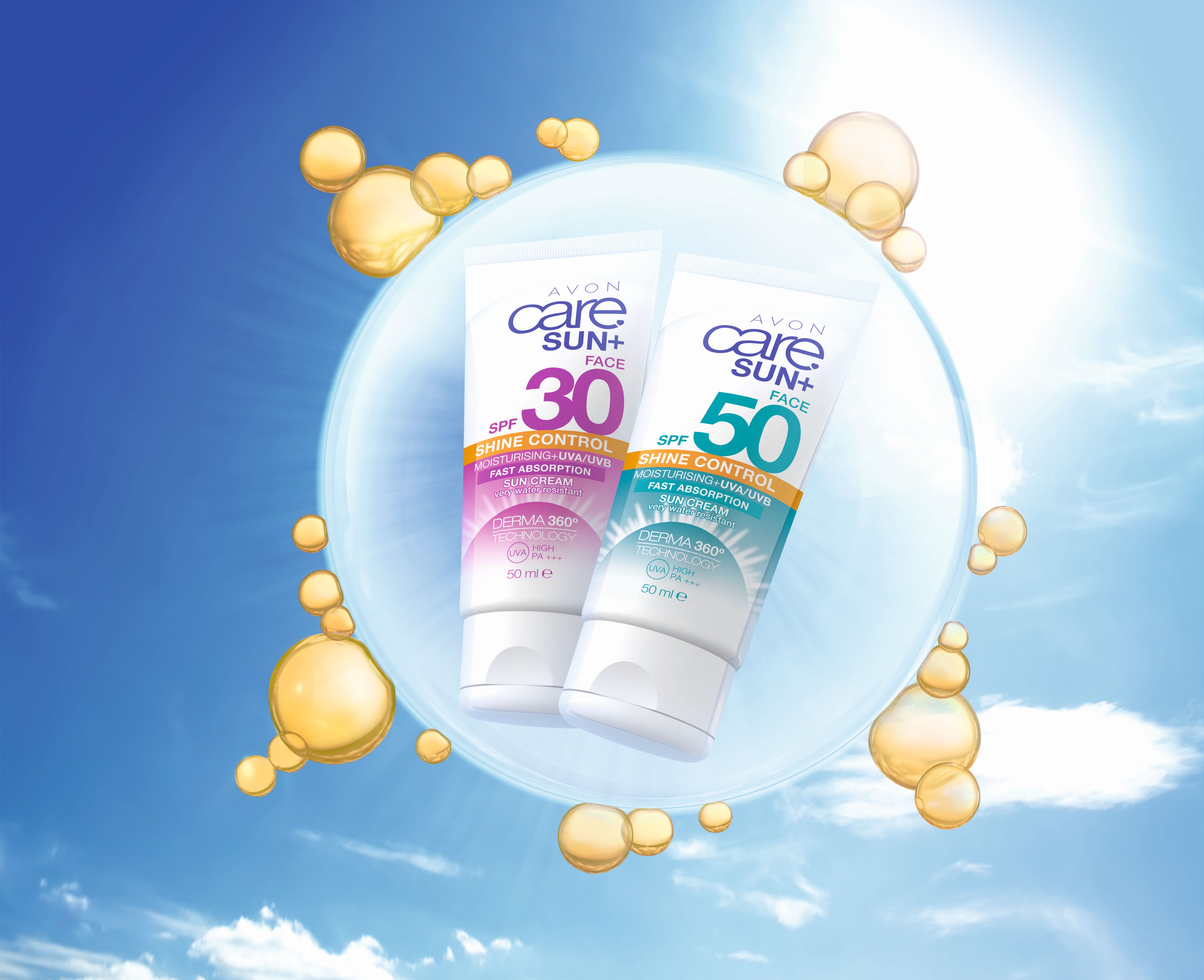 How do solar rays work?
UVA rays reach the hipoderm and damage the collagen and elastin fibers. We do not feel their effect on the skin, but the damage they cause is often irreversible. They are responsible for premature aging of the skin.
UVB rays only affect the surface of the skin by attacking the epidermis. They can cause burns and skin redness due to exposure to the sun (erythema). Dermatologists warn that after frequent burns the skin may be more prone to the onset of melanoma. It is therefore essential to provide the skin with effective protection against UVA and UVB.
Which factors / filters protect from UVA and UVB?
PA factor defines the level of UVA protection. For the best protection against these air, select the PA +++ .
The SPF factor indicates the level of UVB protection. Depending on the time you normally spend in the sun without protection, it depends on the time allowed in the sun if you have applied the sunscreen. Example: If you can spend 10 minutes in the sun without protection to prevent your skin from burning, applying SPF 20 protective cream cream will extend you to 20x which is 3 and a half hours.
Did the sun still reach you and gave you burns and redness? This is how you can ease your burns!
How to choose the right level of protection appropriate to your skin photo-type?
Tan
moderate climate
Mediterranean climate
first day
second day
first days
second days
type 1
SPF 25 / SPF 20
SPF 15
SPF 50 / SPF 30
SPF 20
type 2
SPF 20 / SPF 15
SPF 10
SPF 25 / SPF 20
SPF 15
type 3
SPF 15 / SPF 10
SPF 6
SPF 20 / SPF 15
SPF 10
type 4
SPF 50 / SPF 30
SPF 30
SPF 50
SPF 30
• Type 1 Very bright, often with freckles, blue eyes, red or light blue hair. Hardly get tan, easy to burn.
• Type 2 Lights, sometimes with scars, blue or green eyes, blue hair. Tanned slowly (the skin is red at the beginning of the exposure), the inclination to burn.
• Type 3 Dark, olive, dark eyes and hair. Quickly get tanned, rarely reddish.
• Type 4 Baby Skin: Light, thin and gentle skin, extremely reddish, requires special protection.
Text: Avon