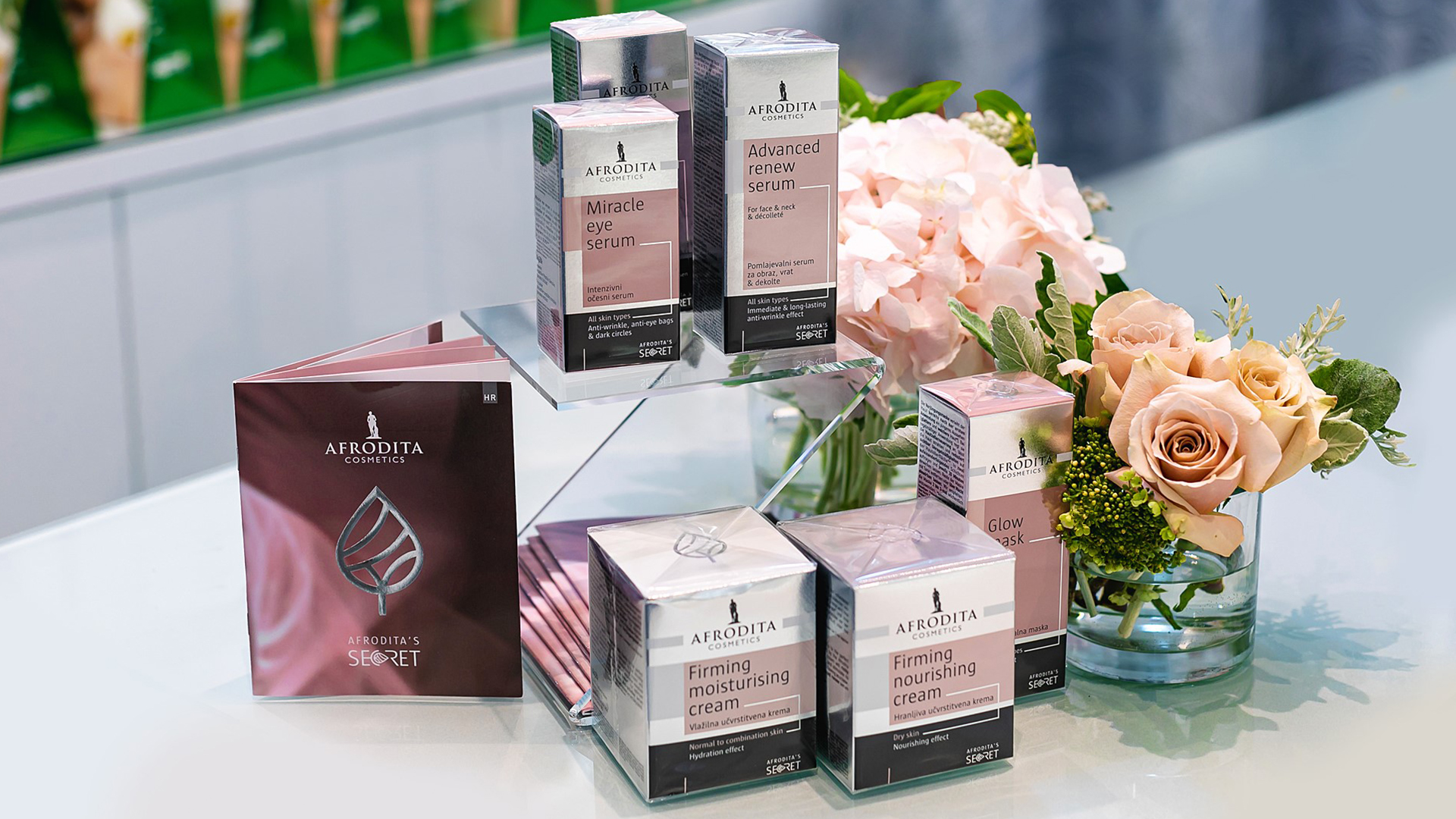 We tried Afrodita's Secret line of products – here's what we think
Afrodita's Secret is a new line of Afrodita cosmetics, which we have had the opportunity to test and try so far. Read what this product line contains and what we think below.
Afrodita's Secret
Afrodita's Secret line contains Advanced renew serum, Anti-pollution serum, Miracle eye serum, Glow mask, Firming mousturizer, Firming nourishing cream.
Advanced renew serum
Rejuvenating serum clears fine lines and smoothes wrinkles by 12% within an hour of application, stimulates cellular activity, thereby enhancing collagen and hyaluronic acid synthesis and intensively moisturizing throughout the day. This serum contains bioactive peptides, which are the result of the remarkable advances in modern cosmetology aimed at enhancing, or stimulating, physiological, natural processes in the skin. It encourages cells to divide faster and synthesize more collagen, elastin and hyaluronic acid. The result is a slowing down of biological aging and photoaging of the skin and its versatile rejuvenation: visible firming of the skin, smoothing of skin relief and action with an intense effect of wrinkle correction.
Our opinion: This serum has a wonderful scent, is very comfortable on the skin and visibly gives moisture and glow to the skin. After application it gives a feeling of firming and smoothing.
Anti-pollution serum
Anti-pollution serum with an innovative mechanism of action preserves cell vitality from damage caused by contamination, protects keratinocytes from oxidative stress, enables immediate (30 min after application) and long-term moisturizing. In addition to hyaluron, it also contains provitamin B, which improves the overall appearance of the skin by promoting its renewal and rich moisturizing. In addition, it has a beneficial effect on irritated skin, by richly moisturizing and softening it.
Our opinion: This serum has become an indispensable part of the daily routine. It is perfect for applying on the face before makeup, giving the face a slight tightening sensation and creating a wonderful surface for further application of the product (cream or powder).
Miracle eye serum
Miracle eye serum with a fast-absorbing texture nourishes and provides an instant look of wrinkle reduction (30 min after application) at the corner of the eye, reduction of the eye circles and long-term smoothing of the wrinkles. Contains Yarumo extract – good for stimulating lymphatic drainage, enhancing microcirculation and having an antidemic effect and ice wine, an ingredient rich in polyphenols (antioxidants) in white and black pinot wine (Vidal Blanc and Pinot Noir), which is grown in the wine-growing regions of Switzerland. at the base of the polysaccharides – the Peruvian "tar" (Cesalpinia Spinosa). Mechanical skin contact releases all the extraordinary substances and provides amazing rejuvenation effects.
Our opinion: One of the best serums for the eye area. It is non-irritating to the eyes, has a very light texture and requires a small amount to apply to the eye area. Very comfortable and fast absorbing.
Glow mask
Even after the first application, the rejuvenating mask gives the appearance of "younger skin" (smoother and softer skin), and with regular use promotes the renewal of skin cells and increases the radiance of the skin and visibly reduces imperfections on its surface. It is recommended to apply it in two consecutive layers and after 20 minutes wipe off the mask with tonic or leave it on overnight. They recommend using it two to three times a week.
Our opinion: The mask is very comfortable on the skin, it refreshes the skin and gives it a slight glow after use.
Firming moisturizer
The secret of ideally moisturized skin with the sophisticated formulation of active ingredients from the Aphrodite Cosmetics Lab: Firming moisturizer will moisturize your skin, prevent excess moisture from evaporating from your skin and visibly firm. Contains hyalur and provitamin B5.
Our opinion: A wonderful cream with a very pleasant scent and rich texture. Refreshes and moisturizes the skin. Firms the skin and is the perfect base for makeup.
Firming nourishing cream
Firming nourishing cream will nourish your skin richly, further moisturize and stimulate its renewal. In addition to hyaluron, it also contains ceramides, which stimulate the extensive natural process of renewing the hydrolipid barrier in the corneal layer of the epidermis, establish long-term protection against natural aging processes, provide long-lasting skin hydration and protect against harmful external influences.
Our opinion: One of the best creams on the market. Very pleasant, wonderful scent and extremely refreshing. Excellent moisturizing and firming skin.
In conclusion: There is no product from this collection that we did not like. Very nice ingredient list, each product is specific and together they work perfectly. All recommendations for this collection.
More Afrodita? Read here.