Sensitive facial skin care with Biobaza gel
I bought the Biobaza Gentle Wash Gel by accident, I needed something gentle to clean my face before going to bed. I didn't want to resort to rough products because there are so many. By "scanning" the products on the shelf, I noticed a Biobaza Gel for Sensitive Skin.

I take the product and read the composition and instructions and decide to buy and test it. Today i the last day that I have this product so I decide to buy a new one, and as BSBP love to share experience with good products, today I introduce you this gentle gel for sensitive facial skin.
Biobaza gentle wash gel
Gently removes impurities and protects against pimples. Thanks to chamomile extract and zinc, the gel has a mild antiseptic effect, helps to repair damaged skin, without leaving it dry and tight. Lactic acid balances the skin's moisture and protects it from drying out.
The gel is transparent and watery. It is easily massaged in the face and gently foamed in contact with water. Perfectly removes traces of powder, but also cleanses the skin from impurities.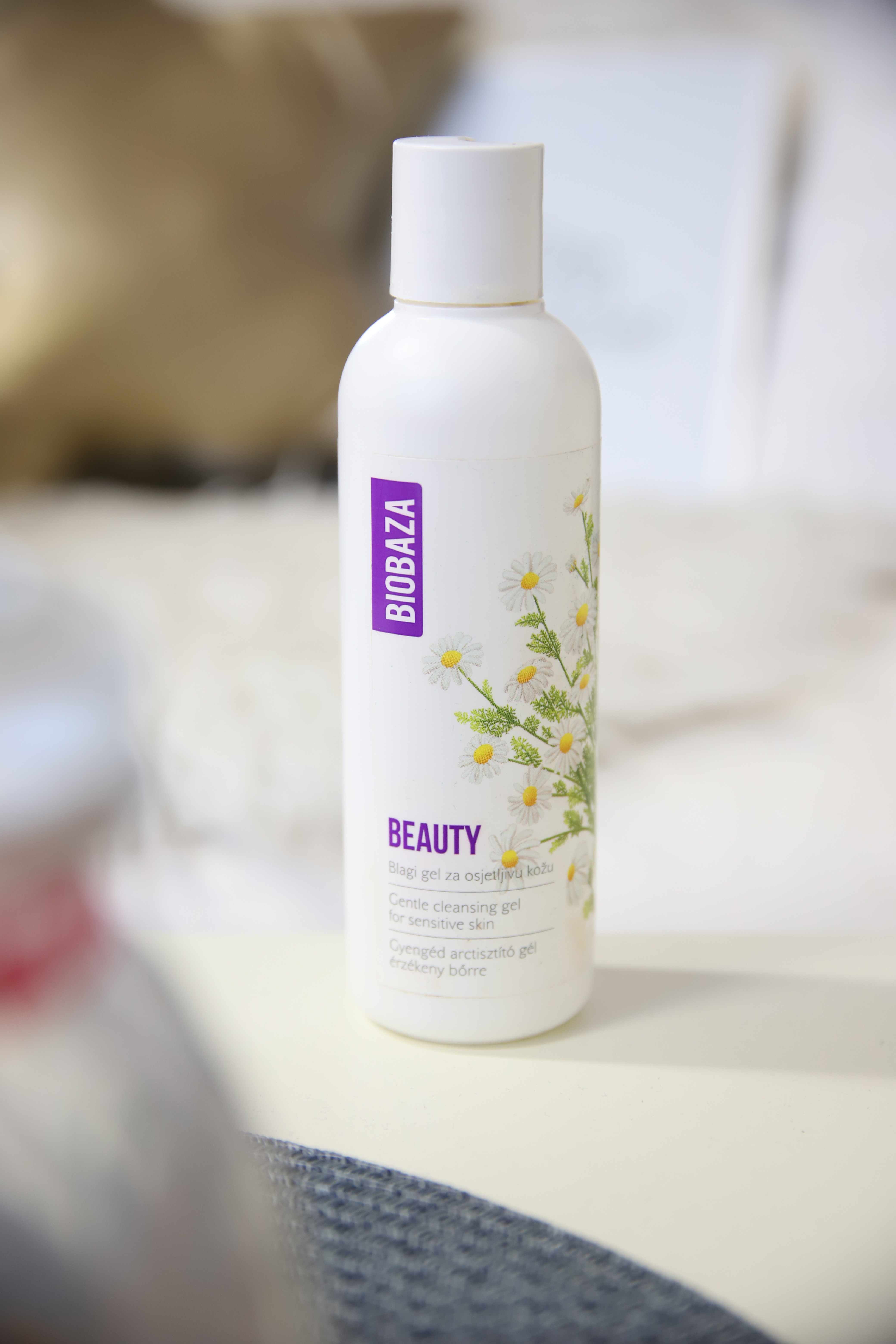 This gel is non-invasive, does not bake in contact with the eyes and is gentle to your skin. When washing your face, it glides on your skin.
Usage:
Moisten the face with lukewarm water, pour the product into your hand and gently rub it over your face, rinse with lukewarm water and wipe with a towel.
Odor:
The product has a slight chamomile odor which is refreshing.
Packaging:
The packaging is practical and contains 200 ml of product. The product is discharged by clicking on the plug that is part of the packaging.
Ingredients:
The main two ingredients of this product are chamomile and zinc. Zinc is a mineral that is very important for the health and beauty of the skin. Zinc has anti-inflammatory properties and is therefore used in inflammatory conditions on the skin – especially in atopic dermatitis, intertriginous dermatitis, in the treatment of acne, rosacea, perioral dermatitis, perleche, herpes simplex, seborrheic dermatitis, etc. Other ingredients are on the back of the product.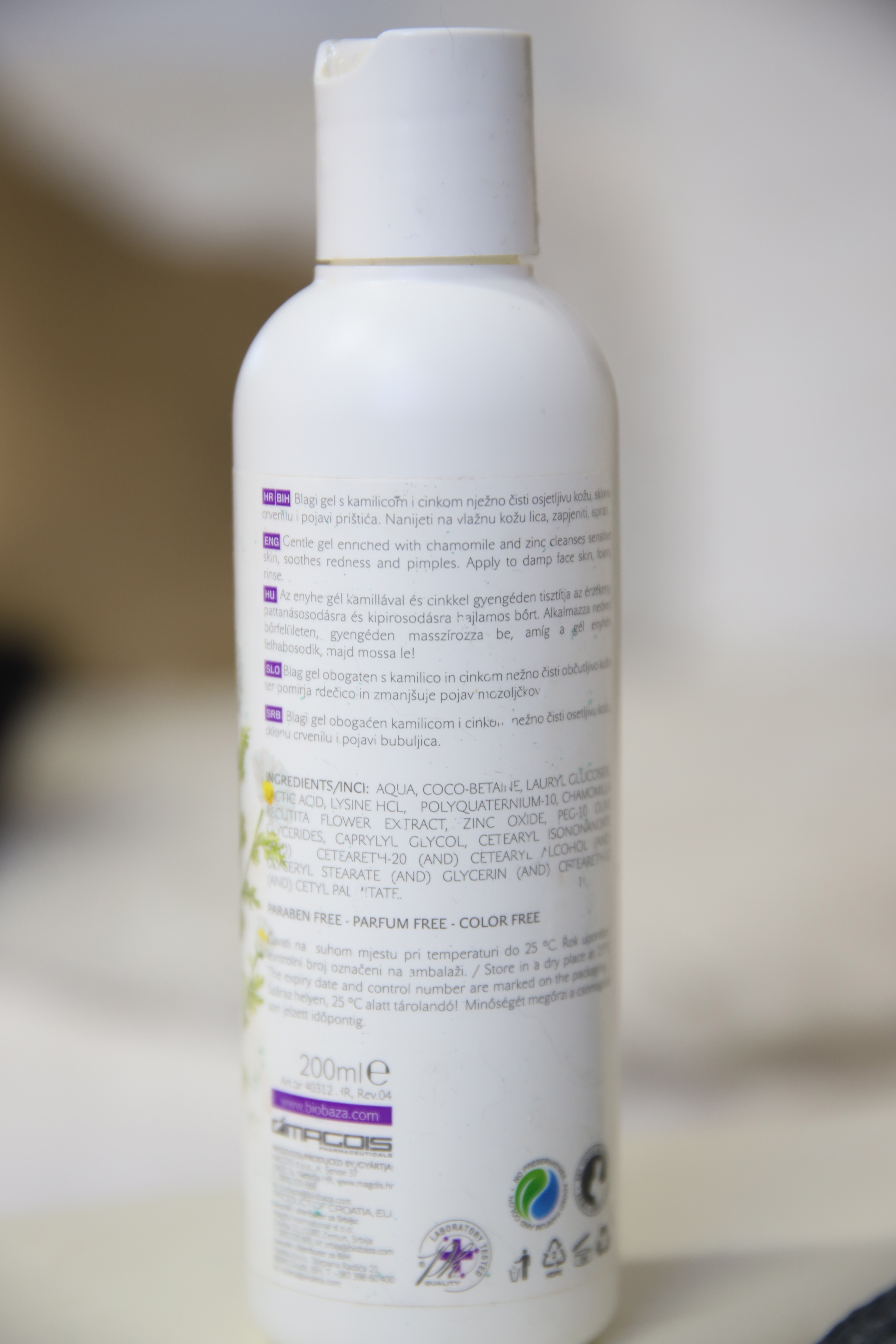 How did I use Biobaza gel and how did it help me?
I've been using the Biobaza Mild Gel for two months now.
Morning routine – after waking up I wash my face in lukewarm water, I use a few drops of products that I massage in my face and then rinse with warm water and apply a daily moisturizer.
Night routine – after removing face makeup I wash in warm water and clean with Biobaza mild gel, then apply a tonic on the face, with which I remove the remaining impurities from the face.
I have skin that is very grateful and very rarely have pimples, but my pores are clogged and I have a problem with blackheads on the nose and chin area. I bought this gel quite by accident, but after a few uses I noticed that my face is softer and that I do not have blackheads in large numbers as before. Of course, this product alone cannot do wonders, but in a good combination with products that are for your skin, I believe you can have a beautiful face.
This is the best care for sensitive skin!
Where to buy this product?
The product is available in all drugstores. I bought it at DM for 3,99€.