In the Afrodita Cosmetics product range there is also a cleansing foam Clean phase. This foam I originally bought because I heard it is good for cleaning the lash extensions without damaging them. I've been using micellar water for a long time now for taking my makeup off and I was very happy with it so far, but since I decided to do a lash extension, I also decidet to use this Clean phase foam, and so I ended up replacing my micellar water with this foam.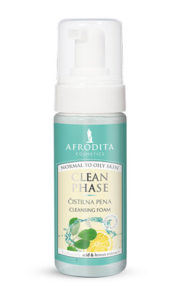 After only one use I was amazed by a gentle foam texture. It is so gentle od the skin and it smells amazing. Before using it, the skin should be moisturized with warm water after which this foam goes. This foam takes off makeup even in the tiniest pores. A few seconds of gentle rubbing is enough. After that the only thing you need to do is wash your face. Not only does this foam cleanse the skin, it also takes off all the unnecessary oils, so it's good for everyone with an oily skin. My skin is usually dry but unfortunately I haven't found a foam for dry skin, but this for normal and oily skin, works just as good for me. This foam is enriched with Hyaluronic acid and lemon extract and it protects the freshness of the skin.
This foam is also paraben, parafin and silicon free and it does not contain alcohol. If you have oily skin you can use this a few times per day and if you have normal or dry skin it is recommended to use this at night. After cleaning your face make sure to use a moisturizes, and I like to use Loreal hydra active creme.
Have you tried this foam or something similar? What's your thoughts?
Until next post, XOXO.